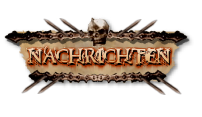 Höret, höret!
Schwert & Rose hat sich nun als Teil der Allianz "
Darkness Falls
" dazu entschieden, beim Release von Guild Wars 2 auf dem Server
Kodash
zu starten.
DF besteht aus aktuell 13 Gilden, welche man zum Großteil als DAoC-Urgesteine bezeichnen kann:
- Destruktive Brut
- Der schwarze Mantel
- Sol Invictus
- Das Tribunal
- eXceed
- Schwert & Rose
- Frostbringer
- Galladoria
- Noricum
- Fedaykin
- Naeramarth
- Vanen
- Exhale
Wir streben als Allianz eine spürbare Präsenz im WvW an - irgendwo zwischen Casual und Hardcore. Mal sehen, wie viel man im "fortgeschrittenem" Alter mit begrenzter Freizeit erreichen kann ;-)
Weitere Gildenaufnahmen bei Darkness Falls sind derzeit nicht vorgesehen.
Über bekannte Gesichter auf beiden Seiten der Schlachtfelder würden wir uns aber natürlich immer freuen. Sollte sich noch eine Gilde also für den Server Kodash entscheiden, können wir nur empfehlen, diese ebenfalls auf gw2guils.org einzutragen.
Bewerbungen für die Gilde Schwert & Rose werden momentan nur in Ausnahmefällen akzeptiert, da wir bereits fünf Neuzugänge haben, die sich noch bei uns einleben müssen.
MfG
Socram

Hallo,

SuR hat im Hinblick auf den bevorstehenden Guild Wars 2 Release sein Regelwerk für Neuaufnahmen aktualisiert, alle Infos gibt es unter http://board.schwertundrose.de/board43-schwert-rose-öffentliche-foren/board133-schwert-rose-bewerbungen/19188-wichtig-die-perfekte-bewerbung/

Im Zuge dessen sind die Bewerbungen für GW2 ab sofort offen.
Wer sich für die WoW Gilde bewerben möchte, muss sich bis zum Release von Mists of Pandaria gedulden - ab dann werden auch dort wieder Bewerbungen angenommen.


Noch ein paar Daten für die Hauptspiele von SuR:
20.07.-22.07.2012: Drittes und letztes Betawochenende GW2
25.08.2012: 3-Tage-Headstart GW2
28.08.2012: Öffnung der GW2 Server für alle
??.??.2012: Release vom WoW Addon Mists of Pandaria. Dieser wird nicht allzu lange auf sich warten lassen, denn Patch 5.0.1 wurde bereits auf die Testserver aufgespielt.


...Release von 1.0.3.

Zu erst waren die Beschwerden in den Community-Foren groß, da die Kosten der Rüstungsreperaturen erhöht wurden, der Demon Hunter durch einen passiven Skill Schaden verlor, teilweise bis zu 60k etc..

Doch mittlerweile gut eine Woche nach dem "schwerwiegenden" Patch sind die Stimmen leiser geworden.

Die Dropchancen für Items wurde merklich erhöht
und nun, da jeder super Items findet, wirkt sich dies wiederum auf das Echtgeld-Auktionshaus aus das weiterhin mit kuriosen Preisen für diverse Items für Furore sorgt.

Wir warten ab wie es sich entwickelt, welche Patches noch auf uns zukommen werden und sind weiterhin gespannt.


Doch vorerst liegt die Spannung auf dem bevorstehenden EM Spiel Deutschland-Italien.. das wir natürlich gewinnen werden...
...wenn auch nur knapp !

Also zieht euch warm an !


Seit 8 Uhr am heutigen Morgen ist es wie schon längst angekündigt möglich, für echtes Geld Items u.ä. im integrierten Real-Money Auction House von Blizzard in Diablo 3 zu ersteigern bzw. zu kaufen !

Wer nun einzigartig gute Items findet und ein Gespür für deren Wert hat, kann mit diesem RMAH einen verhaltenen Gewinn machen - wenn man die Gebühren berücksichtigt, die nach einer erfolgreichen Auktion abgerechnet werden.

Zu Anfang ist die Preisutopie natürlich ziemlich phantasievoll, allerdings soll es laut Spekulationen schon den ein oder anderen glücklichen Verkäufer am heutigen Morgen geben, die somit die Fußballpartie am Sonntag gegen Dänemark doppelt genießen können !

Gute Geschäfte und weiterhin viel Drop-Luck wünscht die SuR-Community !

Ihr wollt euch bei Schwert und Rose bewerben? Fragen los werden oder einfach nur mit der Community spammen?
Also ab ins Forum !
;-)